Show sharing Options
Founder of the Congregation of the Sisters of Notre Dame
The date of 12 January marks the memorial of Saint Marguerite BOURGEOYS, especially for the Sulpicians of the Province of Canada.
Saint Marguerite was born in Troyes (France) on 17 April 1620. As she matured, she wished to consecrate herself to the Lord's service and elected to go to New France (Canada) to teach children at Ville-Marie (Montreal). Within a short time, a small community of other dedicated women formed around her, and in 1669, Mgr François de Montmorency-Laval, Bishop of Quebec, formally approved the founding of the community, whose statues were officially approved in 1698. Over time, she experienced considerable opposition and misunderstanding, and she died in voluntary obscurity on 12 January 1700.
The spirituality of the Sisters of Notre Dame is heavily influenced by the French School of Spirituality, of which the Sulpicians form an important pillar. Since the earliest days of Mother Marguerite's mission, the Sulpicians—themselves considered the "founders" of Montreal since their arrival in 1657—have served the Sisters of Notre Dame as chaplains, down to the present day.
On this memorial, we Sulpicians unite in prayer for the Congregation of the Sisters of Notre-Dame and wish them many blessings in the new year.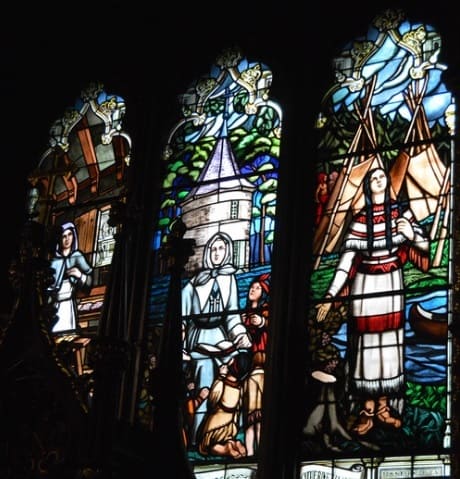 Stained glasses of the basilica Notre Dame at Montreal (Quebec, Canada) depicting St. Marguerite Bourgeoys ont the left and St. Kateri Tekakwitha on the right side
Collect of the day
Father, in the name of the faith, you called Saint Marguerite Bourgeoys to leave her home country to form young women in the Christian life in a distant land. Grant that we, by her example and through her prayers, may proclaim by our in words and deeds, along every path that leads to you, the presence and love of the Incarnate Word, Jesus Christ, your Son, our Lord, who lives and reigns with you and the Holy Spirit now and forever.
Amen